But is it possible for me …
Quick links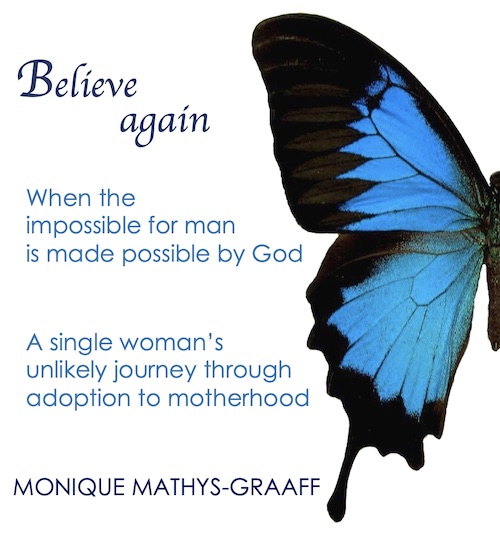 Singleness. Adoption. Family.
These are not experiences that normally go together. After a hopelessness has fed doubt, is it possible to believe again?
How could it be possible for a lonely, divorced, betrayed woman to have her deepest desires met so swiftly?
Mark 9:23
Jesus said to him, "If you can believe, all things are possible to him who believes."
Believing again for something good to happen in our lives, after a painful time is near impossible. We get tired of waiting and believing. It is just too exhausting, too tough.
This book is a story about a mother and child, unlikely strangers, divinely joined together. This journey will shed a bright light on the road of adoption, a realistic reflection on the challenges and a true picture of the rewards that await those who dare to believe again.
As a butterfly emerges from its cocoon to enjoy its new beginnings, so too can you. Finding family and joy is a real possibility and this book will encourage and inspire you to believe again that your heart's desires and dreams can come true.